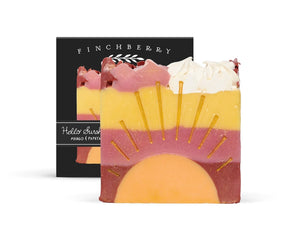 FinchBerry- Hello Sunshine Soap
Prepare to be enchanted as the tropical aroma of Mango and Papaya dances on your skin, evoking images of sunny beaches and exotic landscapes. The sweet and tangy notes intertwine, creating a symphony of fragrance that uplifts your senses and brings a touch of tropical paradise to your daily routine.
Ingredients: Purified water, saponified oils of organic olive, organic coconut, palm, shea butter, select essential and/or fragrance oils, zinc oxide, mica.