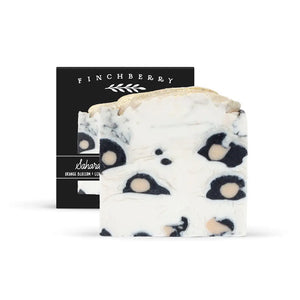 FinchBerry- Sahara Soap
Underneath the luscious whirled top, Sahara's leopard-printed exterior houses a uniquely clean scent. Clementine flower sparkles over a heart of orange blossom with warm undertones of cedar wood to provide a wildly enchanting cleansing experience.
FinchBerry Soaps are all vegan-friendly, gluten-free and preservative-free. Ingredients: Purified water, saponified oils of organic olive, organic coconut, palm, shea butter, select essential and/or fragrance oils, mica, oxides, cosmetic glitter.